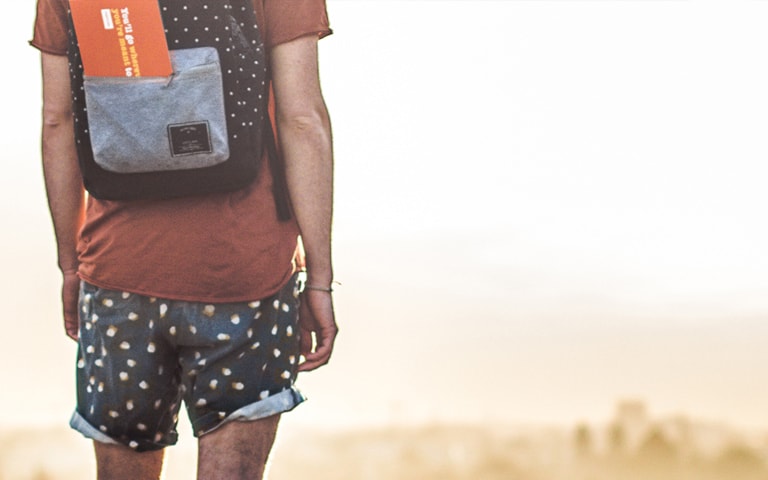 Nothing beats a one-way ticket to intense freedom. Or when that is way out of your comfort zone, you might want to consider kick-starting your voyage in one country and ending it in another. Whichever way, get your backpack out and embark on a worldly adventure where you choose the itinerary. Want to experience freedom in its purest form?
Adventure's everywhere
A backpack adventure in various guises and gradations
A final date or an open end, the choice is up to you
Starting off in a city, the rest of the itinerary is open to serendipity
Wander through Europe or roam the globe
No concessions required whatsoever
The world is at your feet
Jelena (24) & Evelien (26)

A great and adventurous trip to cherish forever! We were asked by a local television broadcaster for an interview upon arrival. We met great people whom we had drinks with during the night. A very friendly and clean city with loads of beautiful temples. An exciting challenge that I would recommend to anyone and will definitely do again myself!
Check prices
Questions about Backpacking?
You take care of
An extraordinary itinerary
The ride to the first accommodation
Transportation, meals, activities and lodgings along the way
A travel and cancellation insurance
Any on the spot payment of tourist taxes
Payments for any visas and vaccinations
Prices and
availability
Depart from?
With how many people?
One way or return ticket?
All over Europe or worldwide?
When you select Worldwide, trips start from 21 days.
Where would you prefer to sleep the first and last night?
It's your adventure, you'll arrange the accommodation the intervening nights yourself.
frequently asked questions
How far is the distance between the start and end destinations?
That depends on how long you will be backpacking for and whether you are travelling inside or outside of Europe. If you really wanted to you could probably reach your end point within 2 days but we think it's a good idea to take each day at a time so you can truly embrace the backpacking feeling!
How much money will I spend while travelling?
If you book a one-way trip, we only take care of your inbound plane ticket and accommodation for you first night. If you book a round trip we take care of your inbound and outbound plane tickets as well as accommodation for your first and last night. How much you spend the intervening days and nights entirely depends on your wants and needs. Go as crazy as you like: do you take a taxi or get a lift? Are you putting up a tent, grabbing a bed in a hostel or going all out with a luxury hotel? And are you eating in a restaurant every night or popping 'round to the local supermarket?
Can I backpack for a shorter duration of time?
The minimum number of days in Europe is 7 days. Outside Europe this is at least 21 days. We want you to have enough time to travel from destination 'A' to destination 'B' at ease. Giving you plenty of time to design a beautiful route. It's all about the backpacking feeling!
What destinations can I expect?
You're so adventurous that the destination is the last thing you'll worry about. A tip: for each starting and ending point, every city with an airport is an option. What you do whilst you're there is for you to decide!
What is a Backpacking holiday?
With a backpacking trip you embrace the unknown in it's purest form. When you book a single ticket we book your flight and the accommodation for your first night. How and when to get back home is up to you. If you choose a round trip we also take care of your flight home from a different destination as well as the accommodation for your last night. You just have to arrange the intervening nights. Whether you want the city buzz or decide to go off the grid during your trip is up to you. Go your own way.